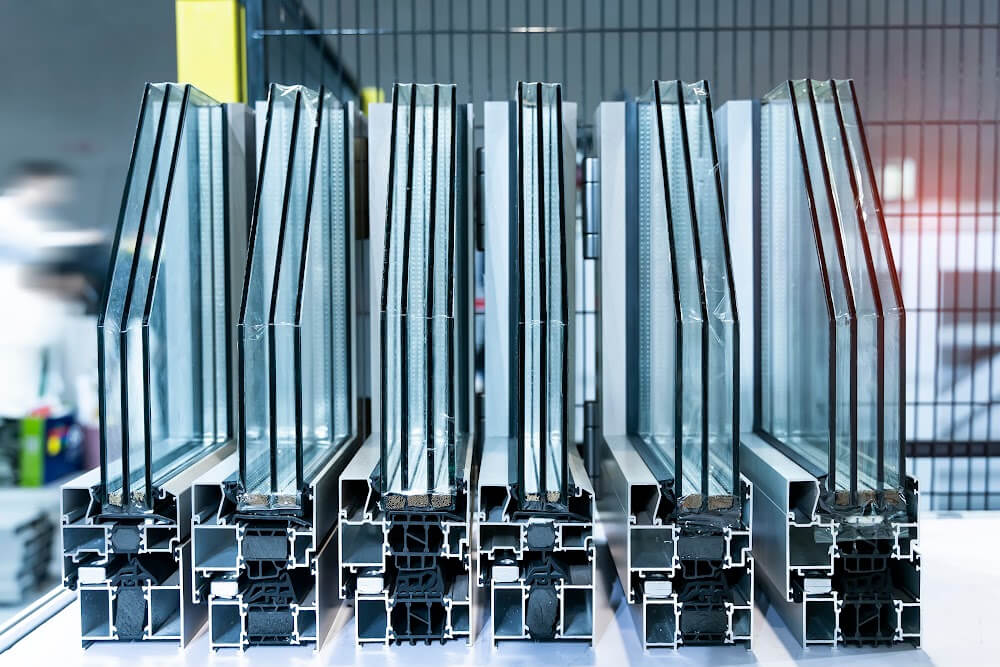 DGU Glass Fixed in UPVC Casement Shutters
When it comes to choosing the ideal glass for your UPVC windows, there are numerous factors to consider. Your decision should align with your personal needs, preferences, and the overall functionality of your home. In this guide, we will walk you through the essential considerations to help you make an informed choice :
Energy Efficiency: Ensuring Comfort and Savings : Ideal Glass for Your UPVC Windows

One of the most crucial aspects of selecting ideal glass for your UPVC windows is energy efficiency. The type of glass you choose can significantly impact indoor temperatures and utility costs. Consider opting for Low-E (low emissivity) glass, which features a specialized coating that reflects heat while allowing ample natural light to filter in. This smart choice can help regulate temperatures and reduce energy consumption.

Climate and Location: Tailoring to Your Environment for Ideal Glass for Your UPVC Windows

The climate and location of your home play a vital role in glass selection. For colder climates, double or triple-glazed glass with insulating gas between the panes is recommended to enhance thermal retention. In warmer areas, reflective or tinted glass can effectively minimize solar heat infiltration, ensuring a comfortable indoor environment year-round.

UV Protection: Preserving Your Home's Interior

Protecting your furniture, flooring, and artwork from the harmful effects of UV rays is paramount. Opt for glass with UV protection capabilities to safeguard your home's interior and extend the lifespan of your cherished belongings. This ensures that your home remains a safe haven for both you and your valued possessions.

Sound Insulation: Creating Tranquil Spaces

In noisy environments, sound insulation is key to maintaining a serene indoor ambiance. Acoustic or noise-control glass is designed to reduce external noises, allowing you to enjoy a peaceful atmosphere indoors. Regardless of external commotion, your living spaces can remain undisturbed and calm. This is a very important aspect in Ideal Glass for Your UPVC Windows.

Aesthetic Appeal: Enhancing Your Home's Beauty

Windows serve as focal points of your home's aesthetics. Exploring various styles, patterns, and colors of glass allows you to curate an Ideal Glass for Your UPVC Windows that seamlessly blends with your interior and exterior design preferences. Elevate the visual appeal of your home with the right glass choice.

Privacy: Balancing Views and Natural Light

Privacy is an essential consideration when selecting glass for your UPVC windows. Depending on the placement of your windows and your personal preferences, you can choose from options such as frosted, patterned, or textured glass. Strike a balance between obscuring views and inviting soft, natural light into your spaces.

Safety and Security: Ensuring Peace of Mind

Prioritizing the safety of your loved ones and property is paramount. Choose glass with security features such as laminated and tempered glass. These types of glass are engineered to withstand impact, providing an added layer of protection for your home.

Maintenance: Sustaining Long-Term Beauty

Different types of glass have varying maintenance requirements. Consider your willingness and capacity to undertake cleaning and maintenance tasks when selecting glass. Opt for a variety that aligns with your lifestyle, ensuring that your windows retain their clarity and beauty over time.

Longevity: Durability in Changing Conditions

The longevity of your chosen glass is essential, particularly in the face of fluctuating weather conditions. Prioritize high-quality glass, as it often signifies an extended lifespan. This durability is crucial for maintaining optimal performance and aesthetics over the years.

Cost: Balancing Upfront Investment and Savings

While upfront costs might be a consideration, it's important to assess the potential for long-term savings. Advanced glass technologies, despite their initial investment, often lead to significant reductions in energy bills and maintenance expenses. Consider the cost-saving benefits over time.

Environmental Impact: Contributing to Sustainability

Make an impact on environmental conservation by evaluating the ecological footprint of different glass options. Opt for glass choices that feature reduced carbon emissions and sustainable materials. By choosing environmentally friendly options, you can align your home improvement efforts with eco-conscious initiatives.

Glazing Options: Tailoring to Your Needs

Choose from a range of glazing options, including single, double, or even triple glazing. Each option offers distinct advantages, from improved insulation to enhanced sound attenuation and overall performance. Select the option that best suits your specific needs and preferences.

Local Building Codes: Ensuring Compliance and Safety

Align your glass selection with local building codes and safety standards. This ensures that your chosen glass is compliant with regulations, guaranteeing optimal safety for your home and its occupants. This is an important aspect in selecting Ideal Glass for Your UPVC Windows.

Finding Your Perfect Match

Keep in mind that each home is unique, and preferences can vary widely. Take the time to carefully evaluate these factors and find the perfect glass that aligns with your specific requirements and preferences. Your journey to finding the ideal glass for your UPVC windows is a personalized one that will enhance both the functionality and beauty of your home.
Conclusion
Choosing the ideal glass for your UPVC windows is a decision that involves careful consideration of various factors. From energy efficiency to aesthetics, safety, and environmental impact, each consideration plays a vital role in creating a comfortable, secure, and beautiful living environment. By making an informed choice, you can ensure that your UPVC windows not only enhance your home's appeal but also contribute to your overall well-being.
FAQs
Can I install UV protection on existing glass windows? Yes, you can add a UV protection film to existing glass windows to help reduce UV rays' harmful effects.
What's the difference between tempered and laminated glass? Tempered glass is heat-treated for increased strength, while laminated glass consists of layers bonded together for enhanced security.
Are triple-glazed windows worth the investment? Triple-glazed windows provide excellent insulation, making them valuable for energy savings, especially in colder climates.
Can I mix different types of glass in my home? Yes, you can mix different glass types based on their intended purposes and locations within your home.
How do I know if my chosen glass complies with building codes? Consult local regulations or work with a professional to ensure your glass choice aligns with building codes and safety standards
For more information on Ideal Glass for Your UPVC Windows Pls visit our Website : www.silvershadewindows.com or write to us at info@silvershadewindows.com
ttps://windowsglassrgi.com/wp-admin/post.php?post=33&action